Wedding day is the most important day in a couple's life. This important day had been planned since years with all the unique ideas and impressive performances. Everything about the wedding has to be different, stylish, updated, huge, elegant and especially luxurious.
We have an amazing venue for your big day :Emirates Palace Dubai.
Emirates palace Dubai offers varied locations and views for everyone's dream and desires to be fulfilled. It offers regal and luxurious indoors for that royal wedding and it also offers vast and spacious gardens for those fun and laughter moments. The private beach of around 1.3kms is an advantage for anyone looking for beach side party or functions or the main event of pheras. Emirates palace Dubai offers all kinds of location for one's dream wedding. From indoor to outdoor, it provides spacious venues for those different wedding functions. From quirky haldi to elegant sangeet to classic pheras, emirates palace Dubai has covered it all.
When we plan a wedding,Everything about it has to be different, stylish, updated, huge, elegant and especially luxurious.
We are here with the most luxurious location for your wedding that is
Emirates Palace Abu Dhabi, Dubai.
Wedding is celebration of love and it has to be full of fun to both you and your guests. Emirates palace Dubai not only offers a luxurious space for a wedding but an elegant and pleasant atmosphere which is perfect for a wedding. The hotel has beautifully maintained 85acres of gardens that give a soothing view and make functions more fun and loving.
The hotel has an indoor flower shop that meets all the needs of flowers for decoration.
The ballroom of the palace is perfect for reception and sangeet events. The golden and crystal luxurious interiors are perfect for impressing your guests and the couple would love to dance under the Swarovski chandelier with the Royal feel.
The wedding function can be carried in two locations: indoors and outdoors.
The indoors as well as outdoors are perfect locations for varied functions.
The indoors provides a happening place for sangeet and reception while the outdoors are perfect for carrying on functions like Haldi and pheras.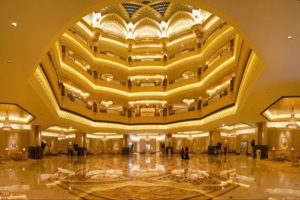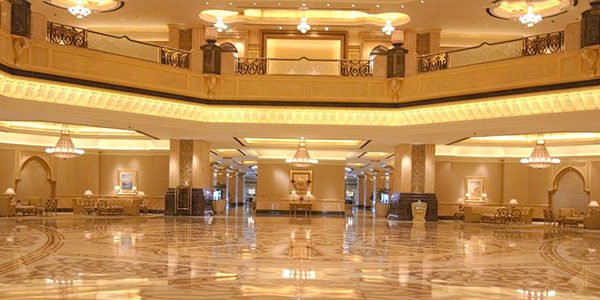 Emirates Palace Abu Dhabi, Dubai has different luxurious and huge locations for different functions. You can make your wedding a memorable one for you and your guests with impressive lighting indoor and picturesque view outdoors. From haldi to sangeet to pheras, Emirates offers you a luxurious view to create unforgettable memories for you and your guests.
Emirates also offers a private beach location for that beach wedding and private scenic pictures.
If you desire a beach wedding with all the luxuries, this is the perfect spot for it. With Luxurious beach and elegant wedding emirates palace Dubai will leave your guests astonished. The regal terraces are perfect for gatherings and partying after the pheras. The view of the whole palace from these terraces is just outstanding.With twinkling lights and cool breeze enjoy the party on the top of the palace.
Emirates palace is just an outstanding and luxurious palace to match the standards or your royalty.