Wedding Mandap exclusively designed by Markwedding- Wedding planners in Mumbai
Wedding Mandap exclusively designed by Markwedding
A well-recognized Wedding Planner in Mumbai and your one-stop destination wedding planners in India for everything related to designing, curating and executing the picture-perfect wedding. At a time when you are torn between taking part in all the revelry with your family and carrying out the daunting task of micromanaging the event, we are the people to turn to. Allow us to create magic and put together a magnificent wedding as we are one of the top Indian wedding decorators, that showcases your style and personality in every element making the occasion as special and unique as you. Cherish all the time you save from scouting and researching for your wedding.
Use it to attend to the more personal aspects of the wedding planning and creating beautiful memories with your near and dear ones as you wait for the D-Day to approach. Let your hair down, shake a leg and enjoy the biggest party of your life to the fullest as

MARKWEDDING

Planner play the perfect host on your behalf.
Here are Top 6 Wedding Mandap exclusively designed by Markwedding
1. Pheras by the Edge
Located on a cliff-top perched above Jimbaran Bay, the Ayana Resort & Spa in Bali, Indonesia, offers a stunning oceanfront aisle – The SKY. Jutting out from a cliff at a height of 35 metres above the Indian Ocean on the quiet Kubu Beach, this multi-purpose deck offers a 180-degree view of the lush greenery, blue waters and endless horizon. This dramatic backdrop surrounded by gardens is a perfect setting for a memorable mandap such as this light and airy one draped in coral, with elegant chandeliers and floral accents.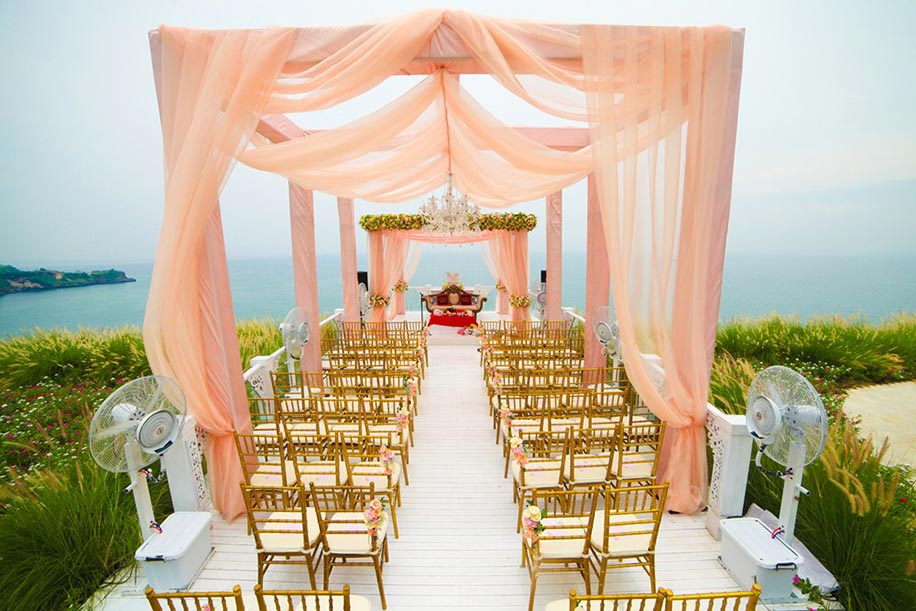 2.Lotus Pond Sunset Soiree
A mandap set against a gorgeous sunset provides a picture-perfect frame in any setting. This mandap set on a platform over the beach-facing Lotus Pond at JW Marriott Resort & Spa in Phuket, Thailand, is also backed by an 'aisle' of water with beautiful earthen décor and lamps along the sides.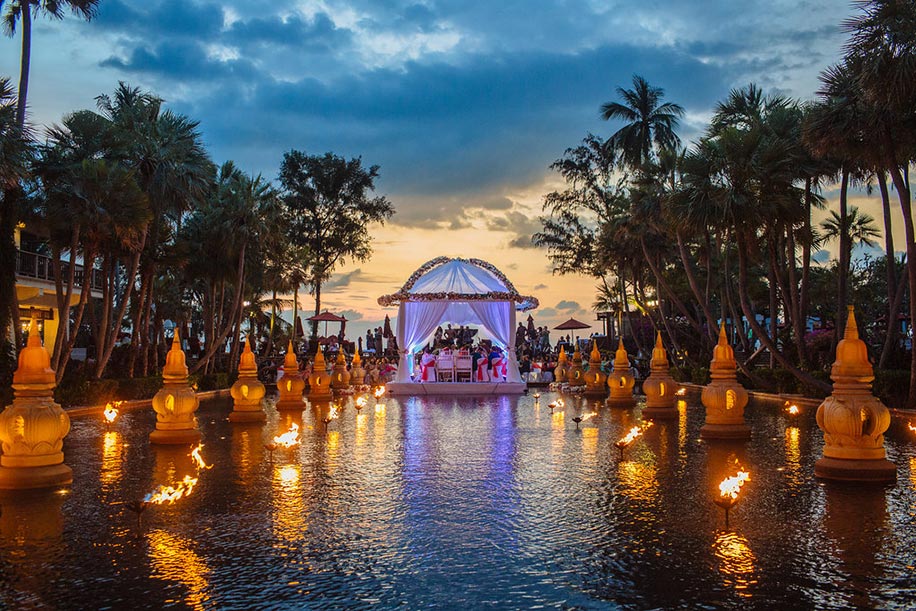 3. Elegant in White
This elegant frame is somewhat minimalist but no less memorable with its white drapes festooned with ivory carnations, ferns and salmon pink roses. White mandaps have become quite popular in recent years as they serve as a pristine canvas for creativity and highlight accents beautifully.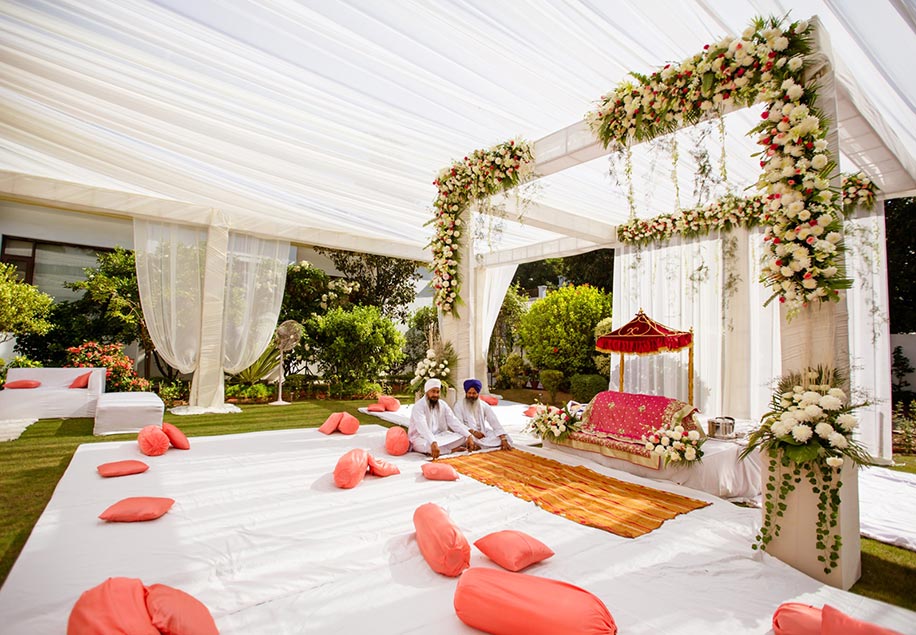 4. Chandelier Royalty
The glint of glass chandelier lamps and the timeless gorgeousness of flowers merge dramatically in this stunning arched mandap. Created against a backdrop of Oman's coves at the Turtle Beach in the Shangri-La Barr Al Jissah Resort & Spa, this creation is geared to light up the proceedings of a heavenly sunset wedding.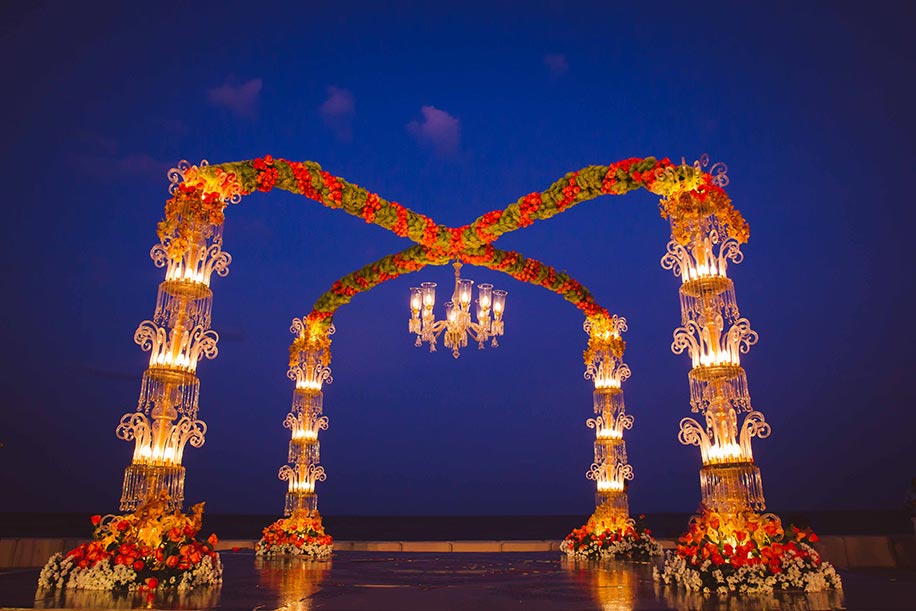 5. Holy Waters
For couples who feel resort weddings are over the top, exchanging vows above the holy Ganges may be a good option. The Divine Resort in Rishikesh offers breathtaking views of the mountains, and a mandap decorated with festive pinks, yellows and reds adds an authentic touch. The gurgling Ganges below the mandap lends a natural music to the mantras session making this a most memorable venue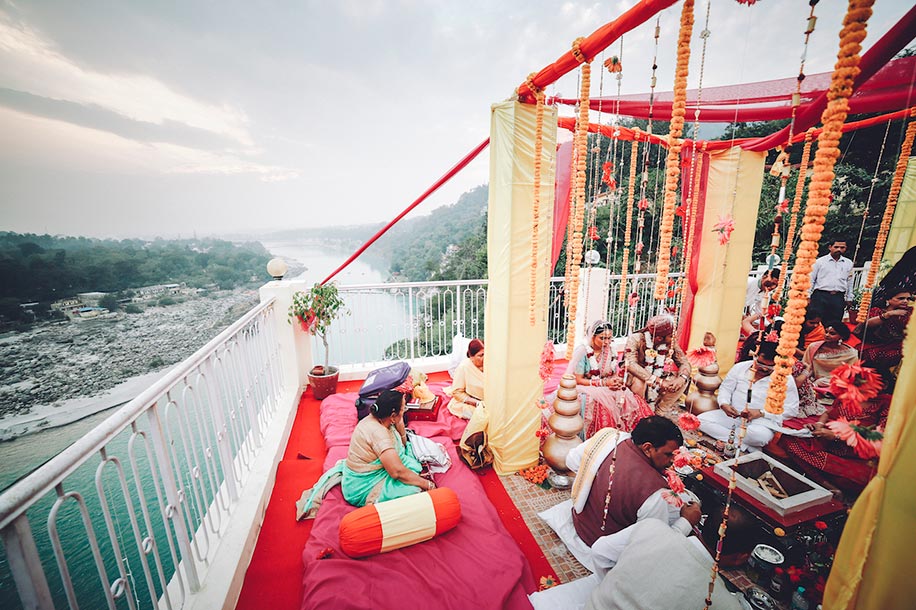 6. Canopy of Roses
This mandap exuded the essence of romance with its profusion of roses. Thousands of blooms brightened up the majestic canopy, were arranged around the silver mirrored pillars and festooned from the ceiling along side dangling gold streamers, garlands and 'latkans' at a lavish Indian wedding in Florence, Italy.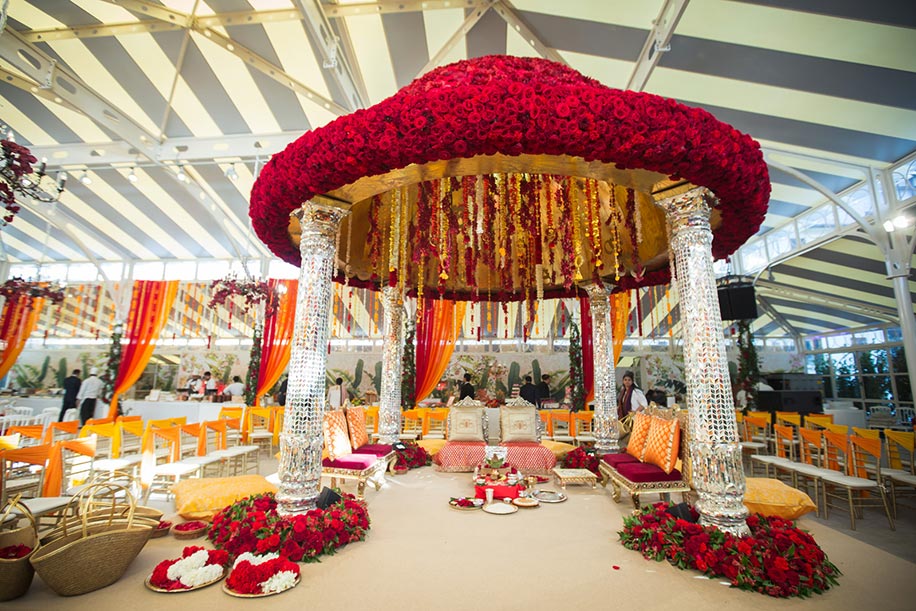 For any Queries or Orders Mail Us at
markweddingbz@gmail.com