Magnificent mountains, serene lakes, incredible heritage buildings, vibrant platter and traditions, and royal hospitality sums up the advantage of having a

destination wedding in Rajasthan

. A wedding in the colorful state of Rajasthan is like bringing a fairy tale wedding to reality.
MARKWEDDING

helps you to plan, organize and make your destination wedding at Rajasthan a truly memorable affair.
Yes, marriages are made in heaven but they materialize here on the Earth. India is home to some of the most stunning wedding locations and Rajasthan is one such wedding destination that can turn your wedding into an ethereal experience. Rajasthan is home to some of the most mesmerizing forts, magnificent palaces, courtyards, and gardens that'll leave you gasping with excitement.
Well, we don't know if it was the Rajasthani Katy Perry-Russel Brand or Priyanka Chopra-Nick Jonas

Royal wedding

that took the wedding world by storm. But we sure do know one thing! Now that this craze is here, it is definitely here to stay. We have compiled a list of top wedding venues in Rajasthan that will literally tempt you to get married.
Reasons Why Suryagarh Palace Jaisalmer Rajasthan India can give you the Royal feel in your wedding
The hallmark of Suryagarh is a belief in the extraordinary, as well as in excellence, comfort and consistency. Our driving force is passion; for quality, for people and for successful interaction.
MARKWEDDING philosophy is to set standards and to be that one crucial step ahead. Here in this quiet corner of Rajasthan, history is the foundation and your destination wedding experience, original.
1. Multiple of venue options available
Suryagarh has an array of wedding venues for your many ceremonies. The combination of courtyards, terraces, gardens and banquet rooms will give a different feel to every event, plus you wouldn't have to repeat any venue. Sangeet and Mehendi could be organized at their Mehendi terrace while you could entertain your guests to the evening of folk music and dancing at any of their sprawling courtyard. The Bawdi designed like a stepwell is the most stunning spot to get wed.
When the venue is as gorgeous as Suryagarh, you want to play minimalistic with décor and let the place do the talking.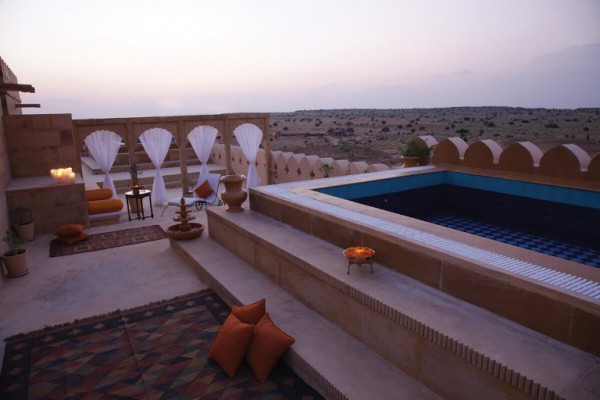 2. Rajasthani hospitality
Their warm and gracious hospitality will definitely be the highlight of your stay. From the outset, you are given a royal welcome with the showering of rose petals and sounds of traditional drums and priest's auspicious chants, you are offered signature welcome drink and this hearty spirit continues right till the check-out. Such is their hospitality that you would admire and applaud it and take some of the warmth back home.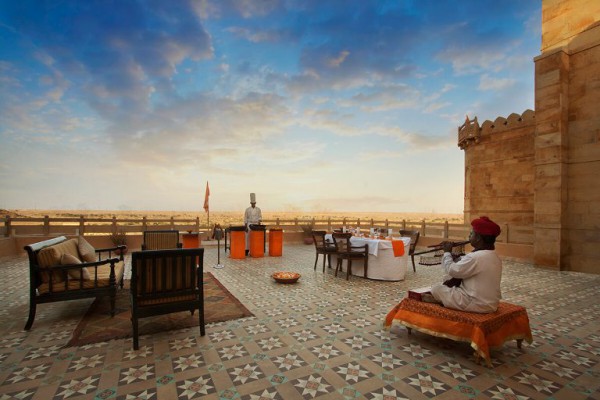 3. So many fun things to do
Well understandable if you do not wish to step outside this hell of a property, but we reckon you might want to spend a day out and have a great time with your guests.
You could visit the popular sites like Jaisalmer fort or Gadsisar lake or Patwon ki haveli or plan something sporty like camel ride or dune bashing or archery. The hotel also has its bespoke 'Chudail trail' that takes you on a midnight drive to the haunted places and sites, not recommended for faint of hearts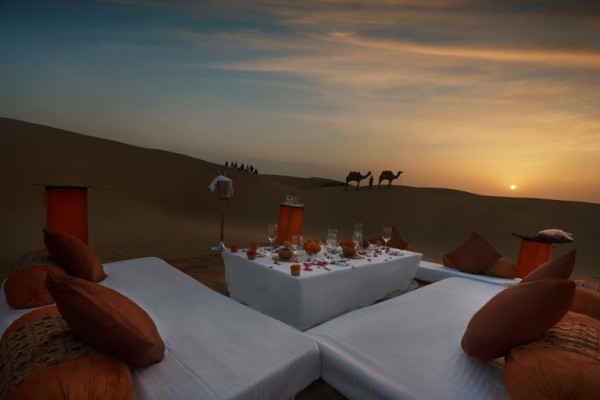 4. The Romance of the Desert
Nestled in the heart of the shimmering sands, Suryagarh is a jharokha to the mighty Thar Desert. The boutique hotel has a fort-like structure and is made out of yellow sandstone, which blends with the colour of the desert. The desert's soothing aura extends to the hotel, there's a certain kind of sereneness about it. Look through the window and there is endless shifting sand till the horizon, which could put you in a meditative state.
So while you are having your destination wedding in Jaisalmer at Suryagarh, it would be plainly unfair not to have an evening planned in the sand dunes. The vibrant canopies with comfortable seating and lanterns and local folk music in the background would be just surreal.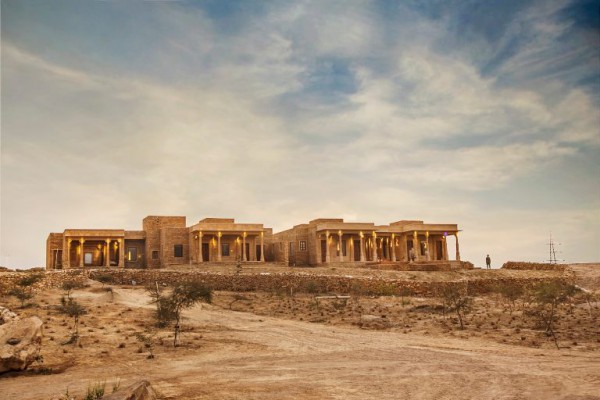 5. A new kind of experience for you and your guests
Little details or big stuff, everything that makes for a royal experience whilst reflecting the way of life at the desert, is the exclusivity and specialty of Suryagarh.
From the moment your guests arrive at this awe-inspiring fort for your destination wedding in Jaisalmer at Suryagarh they are going to love every moment here. Its rooms and suites are done with the colour palette inspired by desert tones. The Rajputana heritage finds an expression in its interiors, furnishings and details.
The food deserves a special mention, be it the traditional lal maas or dal bati churma or badaam ka heluva or the regional thali, chefs dish out some of the most sumptuous food. Their 'Halwai breakfast' is something you got to try when you are here.
2 GARDENS & COURTYARDS | 72 ROOMS | AIR CONNECTIVITY TO JAISALMER
Other Wedding Locations in Rajasthan
Udaipur

,

Jaipur

, Jodhpur and Jaisalmer are the most popular cities to get married at in

Rajasthan

. Ajmer, Bikaner and Pushkar have also become wedding hot spots in recent times. Jaipur has many hotels and resorts to choose from; therefore a wedding in Jaipur can suit different styles and budgets and can accommodate varied requirements. There are as many as 50+ good venues to choose from in Jaipur. Udaipur, Jodhpur, Jaisalmer have much fewer choices in comparison. Udaipur has around 15 extravagant heritage venues to choose from, while Jodhpur and Jaisalmer have 8-10 destination wedding worthy venues to get married at. Taj Group of Hotels, HRH Group of Hotels, Leela Kempinski, Starwood Group of Hotels, Lebua Group of Hotels are some of the dominant hotel chains in this area. Wedding venues in Rajasthan are diverse and include age old havelis, royal palaces, forts and even newly built palace like 5 star hotels. There are some great heritage properties that are now converted into hotels and are called 'heritage hotels'. Wedding budget for a royal palace wedding in Rajasthan starts at Rs 40 lakhs. Udaipur and Jodhpur have the most expensive and lavish venues, Jaipur has wedding venues for all types of budgets.