Island wedding in Bali, the perfect place.
The hunt for the perfect wedding dress is of course a major part of the wedding planning, but before you find the perfect dress, you need to find the right wedding location. MARKWEDDING will help you to do that. Bali has some of the most luxurious wedding chapels and resorts with breathtaking views of cliffs, rain-forest, lakes and ocean.
And when it comes to the unique settings for your big day, there's almost nowhere as dreamy as Bali. Over the years, Bali has proved that it is not just an holiday destination but has the potential to host most amazing weddings. In fact, destination Island wedding in Bali are becoming a popular trend, globally.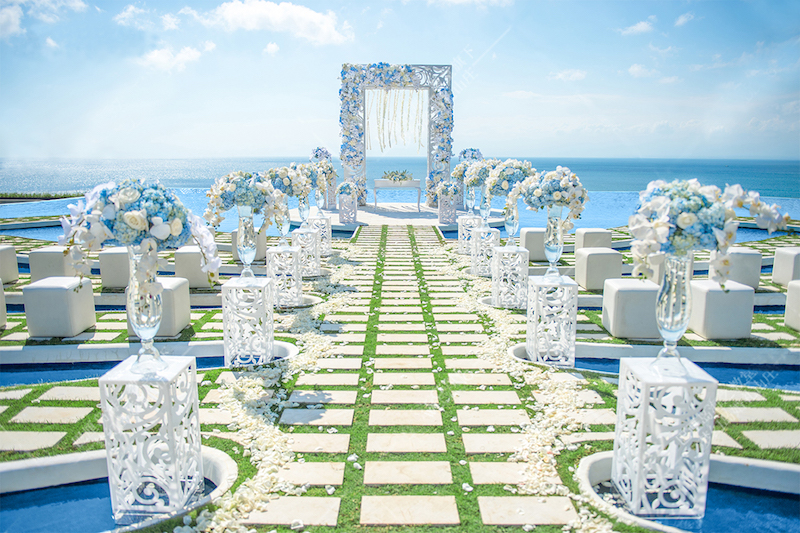 Reasons for planning Island wedding in Bali
Full of incredible sources to help you plan your perfect day
Planning a wedding is never easy and challenges are always to be anticipated especially when it comes to hosting a wedding in a foreign country you're not all that familiar with, but Bali makes it as easy as possible on you. MARKWEDDING helps plan island wedding in Bali, who have been creating Bali weddings for international clients for over many years.
You can choose your own adventure
Have you always dreamed of saying "I do" on a sandy beach? On a dramatic cliffside overlooking crashing waves? All of those are possible. The Four Seasons Resort Bali at Jimbaran Bay allows you to wed poolside, overlooking a calm turquoise bay.
You will have the time of your life with your friends and family
If your loved ones haven't yet traveled to Bali, they've wanted to. This island paradise has something for absolutely everyone. It's a heaven, a dream, and a paradise. The destination will keep the kids entertained, and with activities like kayaking, river rafting, hiking volcanos, and trekking to waterfalls. So everyone will have fun.