MarkWedding, MUMBAI WEDDING PLANNERS, CONSULTANT, DECORATORS
MarkWedding, MUMBAI WEDDING PLANNERS, CONSULTANT, DECORATORS
Shimmering red, beautiful flowers, dazzling smiles, and stunning lights, all these things describe the grandest day of your life and that is a wedding. Marriage is something where two souls blend into one and the entire family celebrates
Your other partner for the wedding! Each wedding is unique and each wedding is made of thousands of special moments.

MARKWEDDING

, Weddings are meant to be the most beautiful memory of love and togetherness and 

MARKWEDDING

 in Mumbai strives to make your special day worth cherishing throughout life.
The 

MARKWEDDING

– the MUMBAI WEDDING PLANNERS, CONSULTANT, DECORATORS, is a reputed wedding event management company, takes all the hassles to make your heartbeat for the ceremony. It is continuing with spreading happiness and letting people gain memories to cherish time and again. An experienced team, who knows what's there in your heart, takes care of the entire task and gets it done accordingly. Each and every detail gets exclusive attention so that you can cherish it as a memory through the long walk of your life.
MARKWEDDING

, wedding planners believes that the most special event in a person's life is their wedding. There are several rituals and events takes place at an Indian marriage, to take care of every single thing is difficult and hectic. Handling everything on your own makes you exhausted in your family event. And hiring the MUMBAI WEDDING PLANNERS, CONSULTANT, DECORATORS provides you with all the ease from these hurdles. Mark Wedding is different from others as it provides extraordinary management services to our clients and fulfills what you exactly want in a better way. From wedding in India or destination wedding across the world Mark wedding provide with best facilities and services and will surely impress you and make your event a memorable one Whether you want to have an intimate gathering or an extravagant wedding, the mark wedding assists you till the last moment to plan your big day in a way that reflects your style.

MARKWEDDING

 planners sit with all important family members to discuss the requirement to provide complete satisfaction to their clients. They promise to make your wedding a unique and elegant affair so the wedding remains etched in your memory forever! They focus on getting to know you, your preferences, likes and dislikes and customize the entire wedding experience according to your needs.
They have the ability to give you a flawless and flattering decoration and satisfying services. The entire team of

MARKWEDDING

 is excellently skilled and they are always happy to help, they are always dedicated to the responsibilities given to them and do their work professionally so that you can relax and enjoy the entire celebration with zero stress. They being the best consultant wedding planners helps you suggest the best of ideas while planning your wedding project understanding the importance of every ritual and traditions to be followed on every occasion. You can even make personalized changes and set the theme for your wedding and they would make sure that everything enhances the theme and the beautiful bond of the groom and the bride. Everything is been kept under supervision for any crisis management and last-minute changes. They are always in charge to accomplish each and every responsibility with the greatest joy and enthusiasm. Your valuable guests would be taken care of and would be leaving the event with all the beautiful moments and the warm ambiance which would be appreciated and remembered life-long. They take care of all the pre and post-event ceremonies and rituals.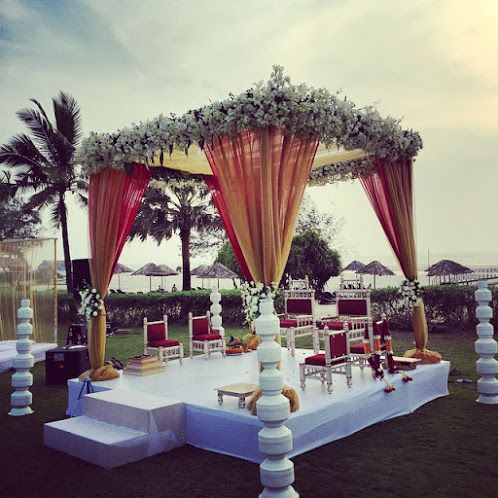 MARKWEDDING

, makes a wedding which is Luxurious, fun, meaningful and which reflects the couple's personality, style, and taste. Being a youth-driven company, their creative concepts, execution skills, and fine detailing can take your wedding to a whole new level. The 

MARKWEDDING

 Planners, specialize in conceptualizing and delivering those perfect moments, just the way you dreamt of them! Driven by the focus towards smaller elements, we assure micromanagement of all aspects be it logistics, accommodation, decor, guest relations, entertainment, etc. All we want you to do is enjoy your special day.
MARKWEDDING

, They have been in the business for many years now, taking care of every responsibility. Their aim is to keep the bride and groom as well as their respective families without any worries. They provide fantastic in-house décor for all the functions; one just has to pick and choose. They are also free to work with other decorators. They take feedback from everyone and plan the big days according to personal taste while giving their view as well. They plan weddings all over India, never restricting themselves to one city. They charge a fixed fee and are a trusted choice all over. They believe that "Weddings mark the beginning of an era, a milestone in your life. It's 'Go big, or go home' and that is our cue, enter 'The

MARKWEDDING

 PLANNERS."
Having brilliant tie-ups with hotels, designers, confectioners, florists and more and excellent hospitality and a curated list of services, the team gives every client a memorable experience. From handling RSVPs to coordinating with vendors to celebrity performances and décor and design, they work round the clock ensuring that the most important moment of your life goes off seamlessly without a glitch and well within the timeline.
Choose THE

MARKWEDDING

 – MUMBAI'S BEST WEDDING PLANNERS, CONSULTANT, DECORATORS for their expertise and enjoy a fairytale wedding.
For any Queries or Orders Mail Us at
markweddingbz@gmail.com