BRIEF
You might want to have a couple wedding or an intimate wedding at a villa or maybe at a beach shack which is all beautiful, practical and feasible in Goa.
    Out of ten wedding queries we receive, at least six wish to tie the knot at beach wedding destination Goa. And the first step is to brief on the cost of planning a wedding in Goa. That is numbers speaking why Goa is such a hot wedding destination and well otherwise too it has just about everything going for it to be one of the most popular wedding destinations in India.
Nearly most of the times a couple before hiring a wedding planner, wants to know a ballpark figure on the cost of planning a wedding in Goa.
It is North Goa that attracts mainstream tourism so to say but most of the destination weddings happen at South Goa. Reason being South Goa is comparatively less touristy, beaches are cleaner, and virtually all beach resorts are located in South Goa with private beach access.
COST OF PLANNING A WEDDING
     

However, as of now in this post let's talk about cost of planning a wedding in Goa with 100 guests, accommodation at a 5-star standard or a luxury hotel/ resort and arrive at an approximate costing.
[Rough Event Flow] 
ACCOMMODATION AND MEALS
 

Requirements
50 Rooms for 100 Guests (Double occupancy sharing)
2 Nights and 3 Day stay with breakfast and all meals 
| | |
| --- | --- |
| Day 1 | Guests arrive, freshen up, have lunch and then get ready for Mehndi and Sangeet Dinner. |
| Day 2 | After breakfast guests relax in resort, have lunch and start getting ready for Wedding High tea followed by Reception Dinner. |
| Day 3  | Guests check out after breakfast |
 

Above may cost anywhere between INR 12000 to INR 25000 per person depending on hotel chosen. So for 100 guests it would total to INR 12 lakhs to INR 25 lakhs. If you are wondering why such a big range, it actually comes down to your choice of the hotel. Leela, Park Hyatt, Alila Diwa, Taj Exotica, The Lalit are most sought after and are in the top tier. Then there's Kenilworth, Ramada, Holiday Inn, Radisson Blu, Planet Hollywood etc.Also, expect a venue charge ranging from INR 45000 to INR 2 lakhs per event depending on venue whether banquet hall or beach or lawns and of course the chosen hotel.
Please note that taxes and beverages are not included in the pricing.
*Corkage is not allowed and you have to take liquor from hotel only. You can also make it like a cash bar.
WEDDING ARRANGEMENTS
Decorations

– Per event, for 100 guests, we suggest spending somewhere from 3 lakhs to 7 lakhs. This amount  will  cover floral, center table arrangements, seating, ambiance lighting, detailing elements, candles, designing of the event look and so on.
For two events (Mehndi cum Sangeet and Beach Wedding followed

by Reception) will cost at least 6 lakhs and can go up to 20 lakhs depending on how elaborate and detailed

you want it to be.
 

Entertainment

– You can hire a local DJ or Live Band and can invite a celebrity too. We suggest spending a lakh  to  two lakhs for 2-day entertainment with DJ or a Live Band, a folk Goan dance performance.
 Procession

– Depending on how elaborate you want procession to be it may range from INR 50000 to INR 150000.The elephant is quite expensive in Goa and costs more than INR 60,000. You may go for a horse carriage or a vintage car as you would like.
 

Makeup Artist

– We would suggest INR 60000 to INR 1 lakh for 3 make-ups for the bride.
Photography and Cinematography

– This is one element where we strongly feel one should not cut corners. Even if it means you have to fly in your favorite photographer from Italy, we would be the ones to coax you to hire him/ her. It is the moments and memories you are spending on, so we say choose a photographer whose work you truly like.Broadly speaking, it will cost 2 to 4 lakhs for photography and same for Cinematography for 2-day events.
 Miscellaneous

– Other elements like Wedding Cake, Fireworks, Sky lanterns, Heena Artist, wedding website etc, set aside another 1 to 2 lakhs.
 

When totaled, average wedding arrangements comes in the bracket of 16 lakhs to 35 lakhs. Adding 1 and 2, we can conclude that a 100 guests wedding for 2 day events may cost anywhere between 30 lakhs to 55 lakhs depending on hotel chosen.This is the skeleton of varied costs when planning a destination wedding in Goa and clearly it ain't an easy task. Hiring a wedding consultant (we happily share our expertise) would help you ease take off a chunk of your weddingzilla-ness or if you like we may plan it for you as well, so you may actually have a wedding that you and your partner are dreaming about.
 

So it wouldn't be a bad idea to pass on the to-do-list to us while you enjoy your most special day with your loved ones. The first step to that is submitting your query to us, and the rest we will happily take care of.
Some of the Wedding Venues in Goa
A lavish 5-star Grand Hyatt hotel in Goa  with overlooks the visually stunning waters of Bambolim Bay, North Goa. Grand Hyatt Goa spreads across 28 acres of colorful, tropical gardens and lush lawns that roll down to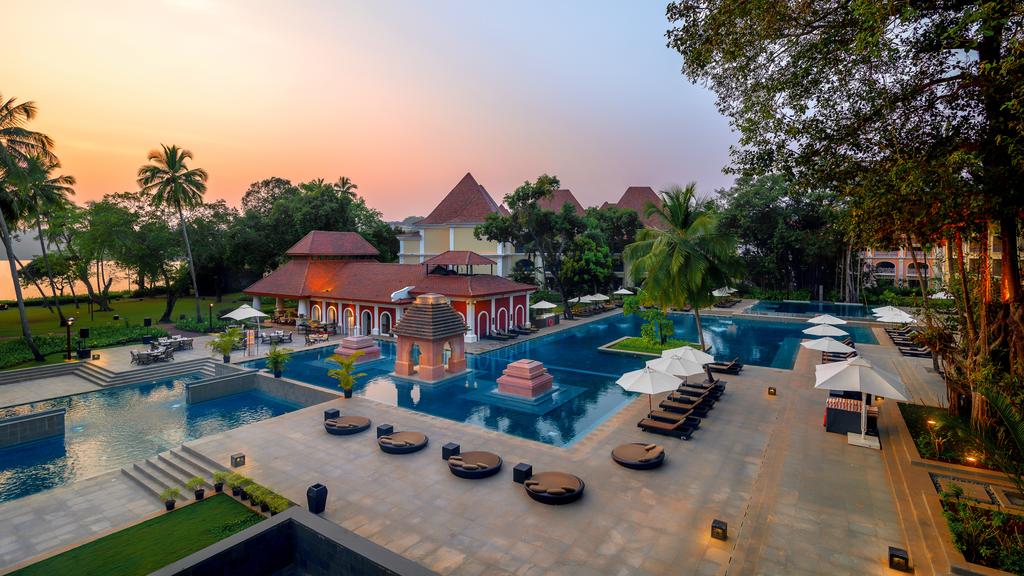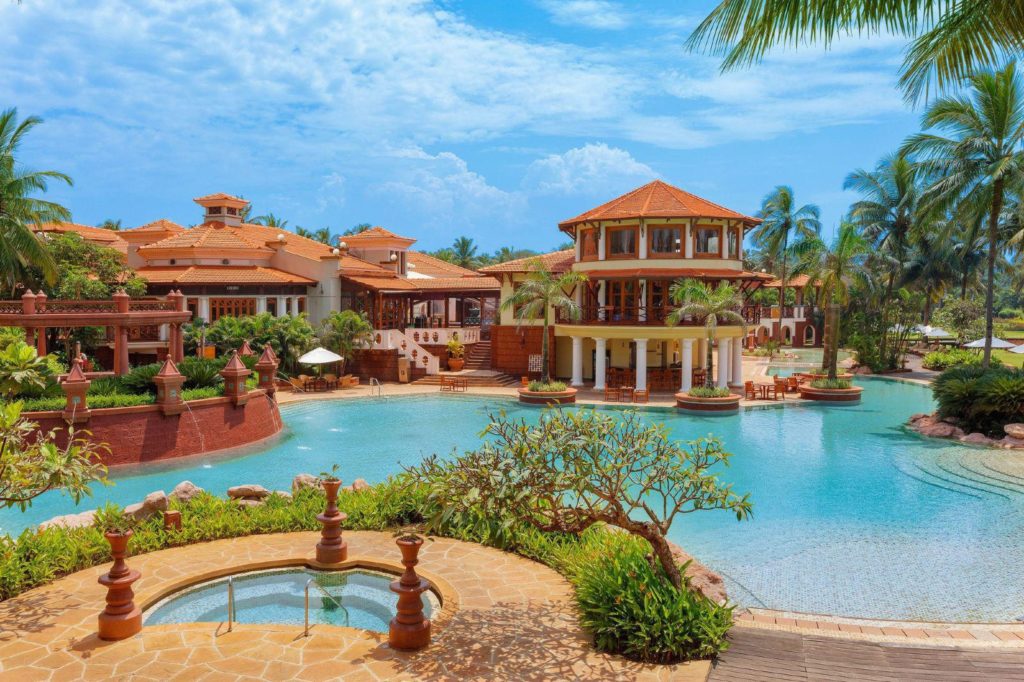 ITC Grand Goa, a Luxury Collection Resort & Spa, Goa
ITC Grand Goa, a Luxury Collection Resort & Spa, Goa amidst lush 45 acres of landscaped gardens, swaying coconut palms and shimmering lagoons -it  offers an array of bespoke indoor and outdoor banqueting venue that are perfect for weddings with direct access
Taj Holiday Village Resort and Spa, Goa
Taj Holiday Village Resort and Spa, Goa is a charming hamlet to abode during your stay along the Konkan coastline,It boasts a large outdoor pool with a sunken bar, a day spa and daily buffet breakfast. A stroll from the sandy beachfront, air-conditioned cottages come with a choice of sit-outs with scenic landscape or sea views. This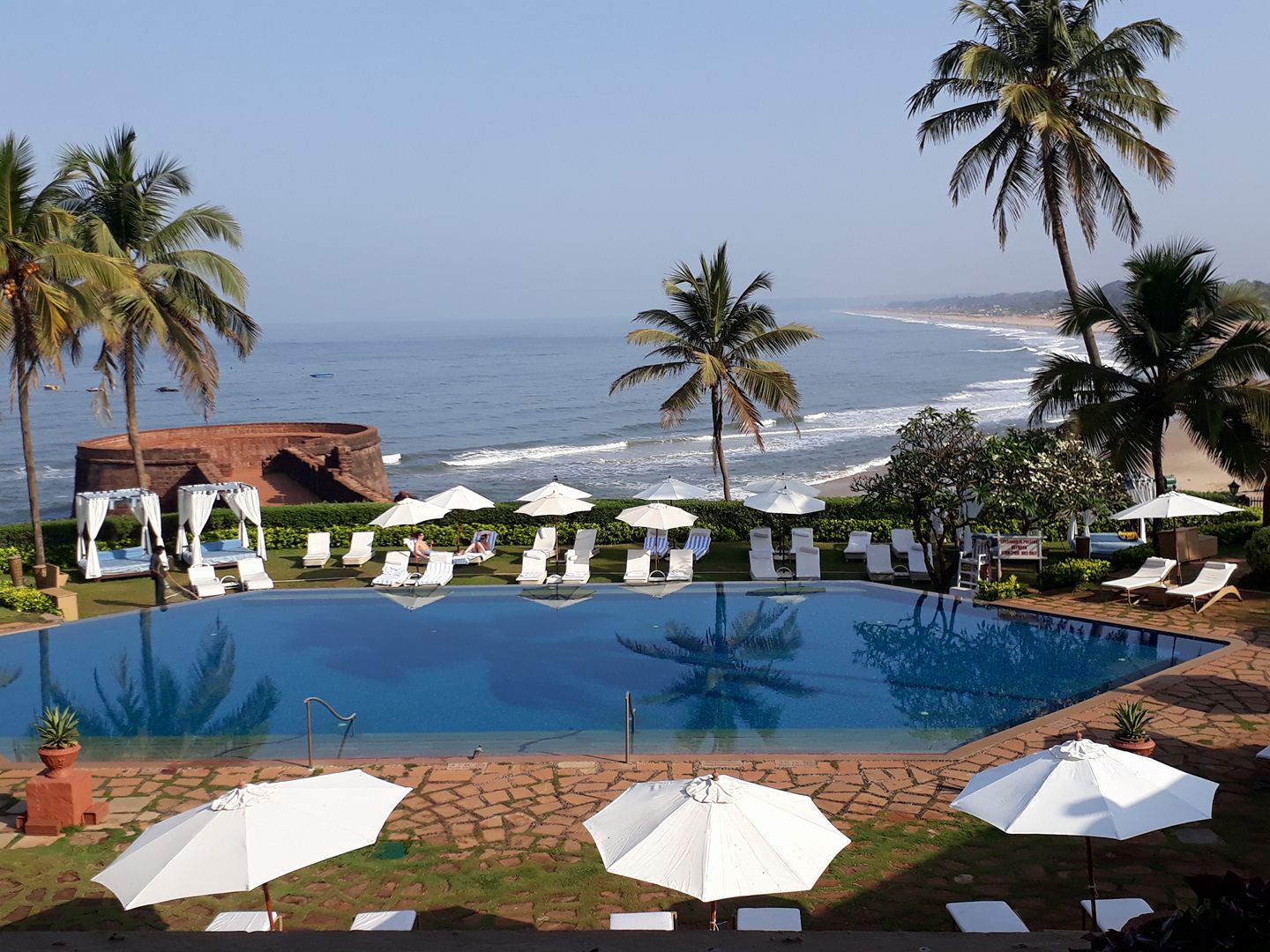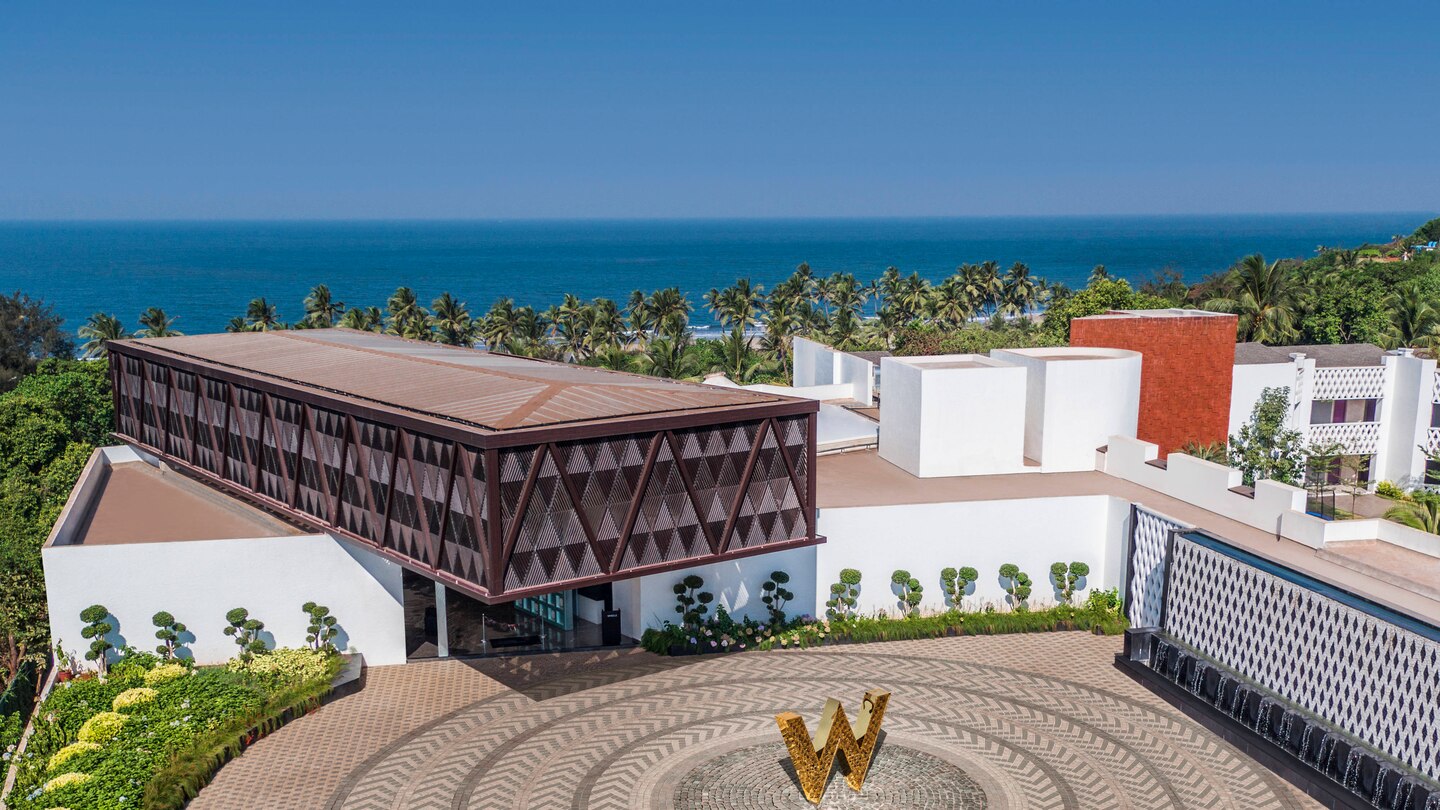 W Goa, India
 India's first W hotel With breath-taking landscape, scintillating dining and sensational music  and a  Clarins spa , prepare yourself for a fun-filled unforgettable wedding, customized to your taste and needs. A ceremony to make
Holiday Inn Resort is exquisite beach resort located on the pristine sand of Mobor beach along the southern coastline of Goa., this beach resort is an ideal destination to repose and enjoy the panoramic views of the vast oceans.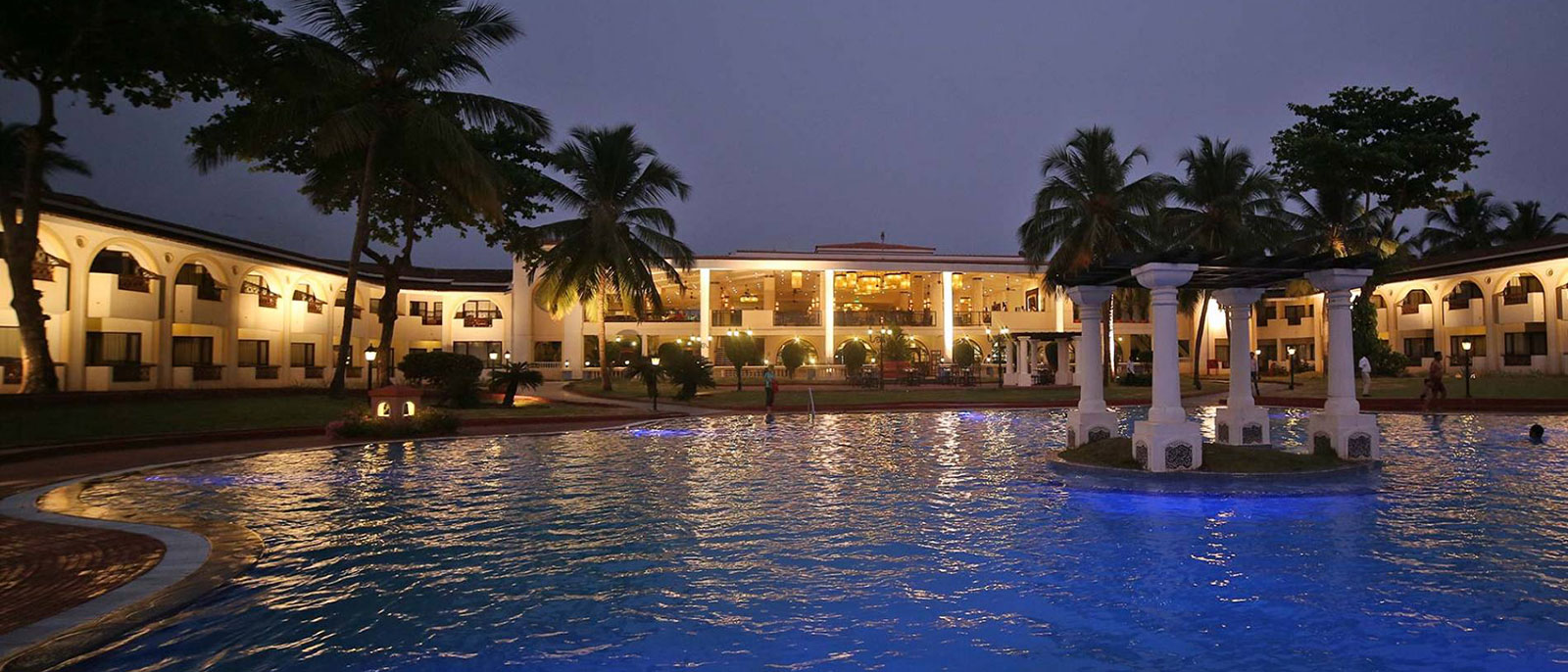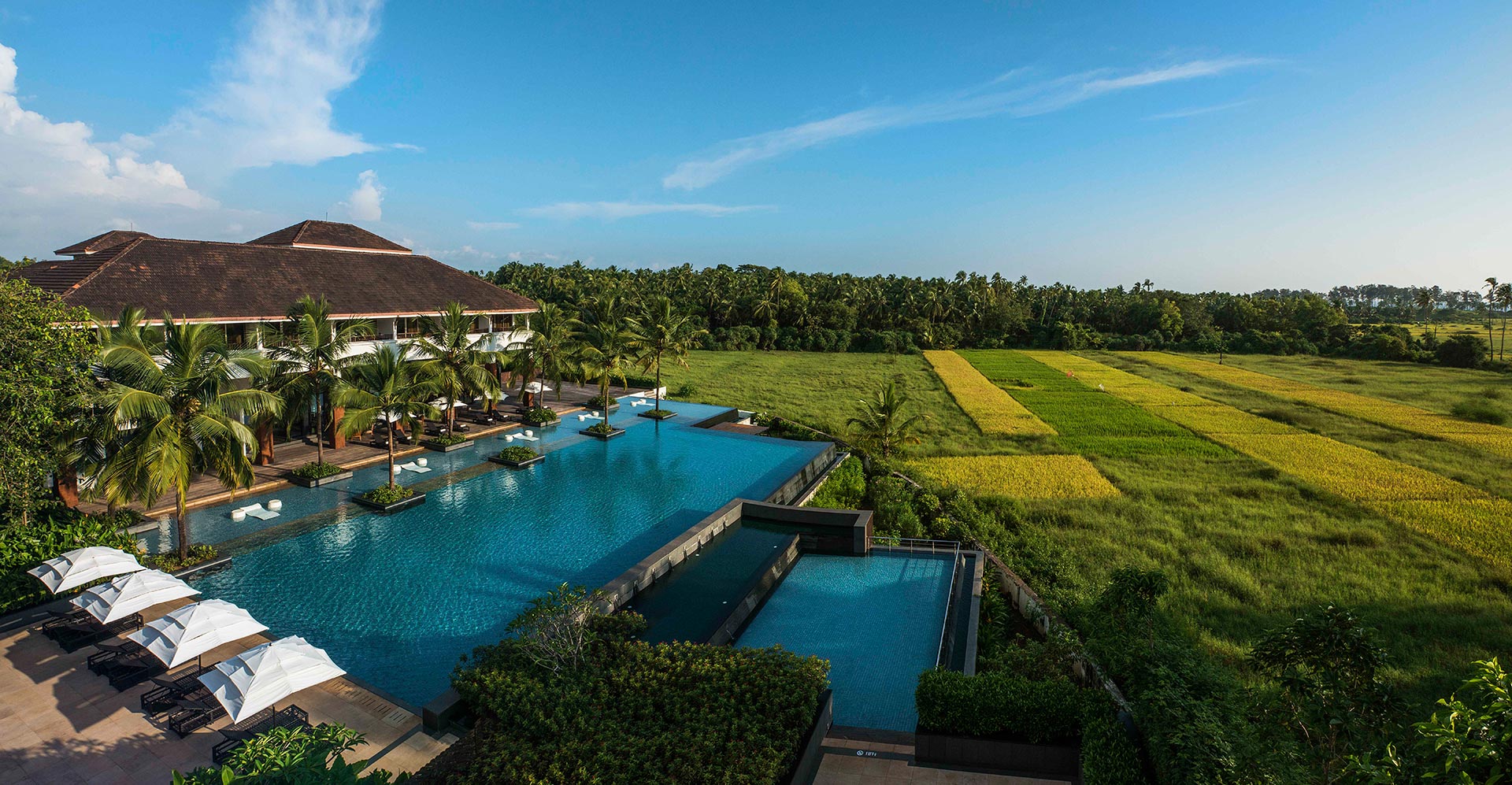 Alila Diwa Goa
Alila Diwa is among the few opulent resorts in Goa situated near the airport. This beach resort by the southern Goan Coastline has won many accolades and honor for its amiable hospitality and scrumptious delicacies. From wedding ceremonies and cocktail parties to a
The Leela Goa
The Leela Goa

has an opulent appearance quite contrary to the warmth and impeccable hospitality it stands for. From a luxurious spa to an exclusive golf course, private access to the beach, four restaurants and two lounges, this hotel is fully equipped to give a memorable vacation. The ambiance is at once tasteful as